Overview
Berry Seed is an item which can be placed to grow into a small berry bush. Berry Seed can be used as a convenient ways to gain large amounts of food for a long time. Berry Seed can be crafted with 3 berries near a fire source.
Behavior
When placed, berry seed will grow into a small berry bush after 2 minutes and the berry bushes will disappear after 8 days (or 64 minutes). Its durability is 700, so you shouldn't harvest them by your weapons because they will destroy your plants before they can reach 8 days. The best tool to collect your berries is a Pitchfork or a Golden Pitchfork, just remember that they only multiply the harvest of your plants, not the natural berry bushes. When planted, your berry bushes will dry up after 3 minutes and 20 seconds (10 minutes when on a plot). When dried up, it will change into brown and cannot produce berries for harvest. To replenish the seeds or plants, a player has to water them with a full Watering Can.
The planted berry bush grows one berry every 44 seconds and stores up to 3 berries, while the natural berry bush can grow one berry every 10 seconds and can store up to 5 berries. Berry growth is boosted by 25% when planted in a plant plot, by 20% when wearing a peasant's tunic, and by 40% when wearing a winter peasant's tunic, the effects are stacked.
Berry seeds cannot be planted in the winter, ocean, lava and desert without using a Plant Plot.
Gallery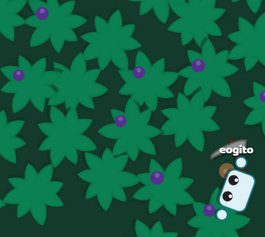 More Information
See also:
Community content is available under
CC-BY-SA
unless otherwise noted.