Overview
Beta is the test server environment for Starve.io. This server can only be accessed by developers, staff members, donors, and other select members of the community. Beta is there to test features from updates, before it gets released. Beta keys are not given out for free.
Beta server can be accessed with starve.io/beta , but without a key (i. e. a unique string of characters attached to the end of the URL), players will not be able to join the test servers.
Beta change-log can be seen by anyone with starve.io/beta/changelog.html
IMPORTANT NOTE ! : As of now, beta keys are no longer available for purchase, and the beta server has been closed. However, LapaMauve may open the beta server again temporarily, to prepare for an update to the game, or for small events when they stream on Twitch.
Purchasing Access
To gain access to beta, you must support the developer of the game through LapaMauve's Patreon, by donating either $5 or $10. You will be able to play beta for a month with the purchase. Note that you must use an email that you will have access to in order to receive the key.
Once you have completed the transaction, you will be receiving an email automatically from a bot called LapaKeyBot which contains a key. The key is updated around every 24 hours for security reasons, so they will send a new key every day. All you need to do is click the first link that it gives you. Note that emails are sent around 8:00 PM UTC+1, so you might not immediately receive your key.
Disclaimer : Starve.io Official Wiki is not affiliated with Patreon. Starve.io Official Wiki cannot be responsible for any issues that may occur in the transaction. Starve.io Official Wiki is not the place to share beta keys, and doing so will result in a permanent ban without exceptions.
Gameplay
Players in beta will have a unique ID before their name. They can gather infinite amounts of resources by using bare hands. The amount collected with each hit varies on the size of the resource. Note that this only applies to mining resources, and not ground resources, quest rewards, or drops. Crafting time is also reduced to 2 seconds for every item.
Please report any bugs you experience to the developers in the official discord.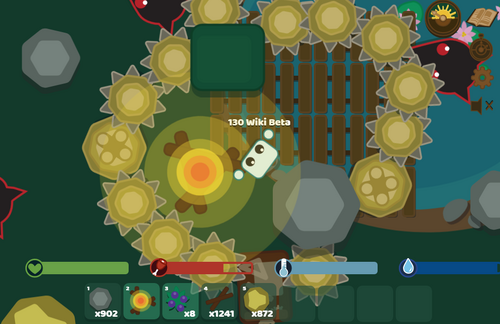 You can easily make this base by Day 2, in the beta server.
Community content is available under
CC-BY-SA
unless otherwise noted.