About the game.
Starve.io is a browser-based online multiplayer survival game developed by two French coders, who call themselves LapaMauve. In this game, players control a human-like avatar, aiming to survive and get stronger equipment. The objective of the game is to survive and accumulate the most points in the server, which can be accomplished by collecting resources, killing mobs and other players, and completing quests. This game grew in popularity after its initial release, and currently serves about 1000-2000 players simultaneously on 42 servers.
Gameplay
There are currently four game modes for this game: normal mode, Legacy Mode, Zombie Mode, and Vampire Mode. Normal mode is FFA (Free for all); players can log on and log off whenever they want. Hunger Games mode is for competition; players cannot log on once the game has started or once they have been eliminated.
On either mode, players have to survive by keeping five bars (warmth, food, hydration, oxygen, health) from draining completely. When the health bar, which decreases if any of the other status bars are drained, the player touches a spike wall or when attacked by hostile mobs (and other players); drops to 0%, the player will die. To survive, players must obtain food, heat sources, and water, as well as obtaining various resources, some only found in harsh, distant biomes, to improve their equipment. Over time, players obtain points, which can be used to buy starter kits in a new game. The game features a day-night cycle, with a day lasting 4 minutes, and same with night (so that the full day lasts 8 minutes). At night time, the cold bar drops much faster, the appearance of mobs and biomes changes, and the mini-map becomes slightly harder to interpret.
Players use the WASD keys (or alternatively, there is also the option for the AZERTY keyboard) and the mouse (pad) to control the character. For more information regarding player controls, please see Key Binds.
-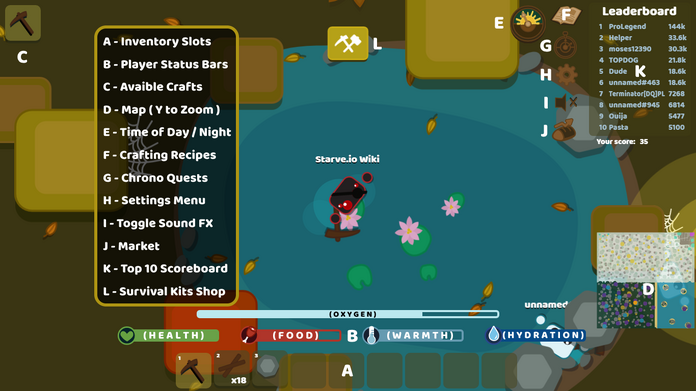 Servers
Currently, there are a total of 42 online servers of Starve.io, on four different continents of the world. (40 regular, 2 hunger games). EU#1 and EU#2 are the most active and most competitive servers of the 42. According the developers, a new hunger games server in Asia is upcoming.
Code
Location
Amount of Servers
Activity
EU
Roubaix, France
9
EU#1, EU#2: Very Active


EU#3 ~ EU#9: Active

NA
Montreal, Quebec, Canada
6
Active
WA
Los Angeles, California, United States
8
Somewhat Active
WA
Seattle, Washington, United States
2
Not So Active
RU
St. Petersbourg, Russia
5
RU#1: Moderately Active


RU#2 ~ RU#5: Mostly Inactive

SA
Texas, United States
2
Not So Active
AS
Singapore
3
Somewhat Active
AS
Tokyo, Japan
3
Somewhat Active
AU
Sydney, New South Wales, Australia
2
Somewhat Active
EU (Hunger Games)
Roubaix, France?
1
Active
NA (Hunger Games)
Montreal, Quebec, Canada?
1
Active
AS (Hunger Games) UPCOMING
N/A
 ?
Upcoming
History
For a complete detailed changelog, please see updates.
| Date | Event |
| --- | --- |
| March 24, 2017 | The game is released! |
| March 28, 2017 | The drawing system is released, in which players can create artworks on the drawing tool to implement in the game. |
| April 28, 2017 | Winter biome is released with Amethyst. |
| April 29, 2017 | Hunger Games mode is released! |
| July 5, 2017 | Ocean biome was released with new food items, and the hydration bar. |
| July 28, 2017 | Chrono Quests were released, with new quest - exclusive items. |