Overview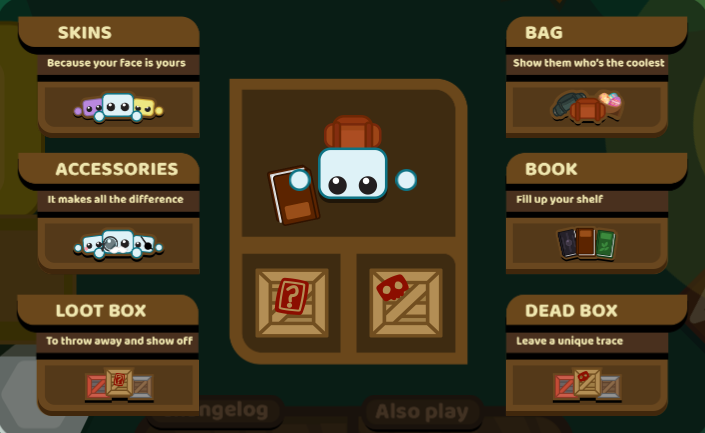 Skins are different styles of avatars players can use in the game. They were added in the Sounds Good update. To use skins, players have to share starve.io on Facebook or Twitter. When done, players will be able to choose between all of the skins, as well as the accessories.
Skins
Skins can be accessed at the top right corner of the game's starting screen after sharing. They come in various different colours and emojis including the original "blue" one, which stayed in the game for the longest amount of time (was from the first release). Accessories can also be optionally added to any of the skins (there are no theme limits).
Accessories 
Accessories are small features which can be optionally added onto your character. They are separate and independent from skins. There are currently 8 of them - a pirate eyepatch, a monocle, a bandage, a pair of glasses, a peace tattoo, blush, a flower and a set of horns. Access to accessories is granted simultaneously with skins, by sharing starve.io on either Twitter or Facebook. Only one accessory may be used at a time. Like skins, accessories serve no purpose other than to alter your appearance. Accessories were added in the BAKERS ARE YOUR BANKERS update.
Types
Skins
Base Skins
Type-Description
Daytime
Night Time
Normal-Whitish-Blue

          

          

Surprised-White

          

          

Crazy-Green

          

          

Grumpy-Lime

          

          

Scrarred-Brown

          

          

Pink-Happy
          

          

Magenta - Excited

          

          

Red - Angry

          

          

Light Blue - Crying

          

          

Yellow - Annoyed

          

          

Special Skins
Colour / Description
Daytime
Night Time
White - Vampire

          

          

Green - Zombie

          

          

Accessories
Type
Daytime
(With "Blue" skin)
Night Time
(With "Blue" skin)
Eyepatch

          

          

Monocle

          

          

Bandage

          

          

Glasses

          

Image needed.
Peace

          

Image needed.
Blush

          

Image needed.
Flower

          

Image needed.
Horns

          

Image needed.