NOTE - As of the latest Starve.io update, both Starve.io extensions are no longer functional.
Overview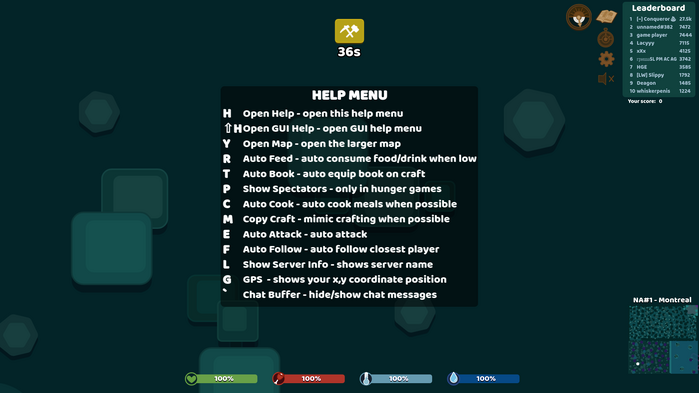 The
starve.io extension
is a 3rd-party minor-modification browser extension that enhances gameplay by adding useful features that the game does not normally have. This is developed by
Jason Khanlar
on GitHub. This was released v.001 on GitHub (date unknown). The extension requires either of the user scripts Tampermonkey or Violentmonkey to run. It adds new content such as GPS and Auto Follow.
NOTE : The old Starve.io Extension was discontinued a while back, due to its developer (Tjstretchalot) feeling it was no longer necessary with the 07/28 update. It no longer functions at all in the current version of the game. The new Starve.io Extension is made by Jason Khanlar, and you can find out more about it here. For more information on the older, discontinued extension made by Tjstretchalot, see here.
Features
On-screen Chat Buffer
Displays a permanent buffer of chat messages.
Works in addition with regular in-game chat visibility.
Toggle buffer ON / OFF by pressing ` (backtick).
On-screen Help
Toggle with H for Default Help Menu.
Toggle with SHIFT + H for GUI Help Menu.
Duplication of Tjstretchalot's implementation.
Auto Attack
Makes player automatically, continuously attack.
Toggle with E.
Auto-Book
Automatically equips Ikea Manual on crafting.
Toggle with T.
Duplication of Tjstretchalot's implementation.
Auto Cook
Attempts to automatically craft food recipes if required items exist.
Priorities: Cake > Cookies > C. Fish > C. Meat > Bread > Sandwich.
Auto Follow
Attempts to automatically follow closest player if a player is near.
Enable Caps Lock to switch auto follow modes (manual | mimic | face | mirror).
Hold Shift to switch auto follow targets (players | enemies | all).
Toggle with F.
Copy Craft
Attempts to mimic crafting the same recipe when you craft a recipe.
Toggle with M.
Active Feed
Provides more efficient eating and drinking.
Toggle with R three-way.
Server Name
Displays server name above mini-map.
Toggle with L.
Displayed Status Bar Values
GPS (Game Positioning System)
Provides co-ordinates above player.
Toggle with G.
Improved Mini-Map & Big Map
This feature cannot be turned off.
Download
A download link and installation instructions can be found here.