Introduction
Hello wiki visitor! If you are reading this, then you most likely are someone that plays starve.io, yet do not find it easy to be #1 in the server. Things would be different if you are a hardcore gamer, but not everyone is one and fortunately, after reading this guide, you will be closer to looking like a hardcore gamer with all of your equipment! I'm sure that some of you do not need to read all of this guide (if you do, that's totally fine, that's what I made it for), so feel free to skip ahead or skim through some parts of it!
This is Part One of two parts, and I'm going to cover everything in the forest here.
Table of Contents
From Spawning to Killing (Obtaining stone tools and food)
Be Fashionable Part One (Obtaining book and bag)
Gold Rush (Obtaining golden tools)
Be Fashionable Part Two (Obtaining Chapkas)
Final Preparation (Obtaining more resources and water bottles)
** Please note that these steps can be done in different orders, these are sorted only from my preference and I will explain the reasons in the guide.
1. From Spawning to Killing
Starting Out
So, you choose your server, you choose your skin, and you spawn. Easy until that, right? Well, if you are having troubles with choosing your skin, ask your local fashion store! Anyway, the first thing you want to do is get wood, and get food. You will spawn by a tree, so walk towards it and punch it until you get 10. If you are lucky and find berry bushes with berries around, collect that also before it gets taken! (Sorry for the low quality images, I recorded myself and then took screenshot from the videos so that's why it's bad)
Once you get ten wood, and hopefully some berries, it's time to craft. Let's craft a wooden pickaxe! You can craft by clicking the button on the left top corner of your screen. While crafting, you cannot mine, eat, or drink. Be careful! If it's night, you should go find a campfire to join for the night. If you don't see them nearby, they can often be located in lakeshores, so head to the nearest lake indicated by the blue in the minimap. If the server is inactive, or you see walled bases, you need to craft a campfire on your own. In this case, get 25 wood and 5 stone and craft it immediately. If you ever are cold, stay warm with fires!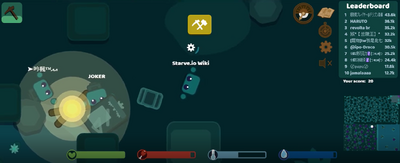 Getting Stone
Once you have the wooden pickaxe, you can now mine stone, the second resource of the game. Stone is used to craft many useful tools and weapons. There should be plenty of
nearby, so you can mine from those. Use the recipes to refer from, and collect as much as you need to! Don't forget to collect more wood also. Sometimes, stone can be found with other stone ores or trees next to it. In this case, you should mine both at the same time. After collecting enough supplies, find a nearby

workbench, or craft one, and start making a stone pickaxe! If you haven't found berries yet, and see wolves nearby, you should make a weapon of your preference (spear or sword) and get ready to hunt, before making your stone pickaxe.
Or, if you have enough materials, make them all at once!
This process and the process before of getting wood never ever ends. That's because if you wanted to make anything, or build anything, you will 99% of the time need stone and/or wood.
Hunting
Eventually, you will not be able to rely on wild berries. Most people just become nomads and hunt wolves on the way. This is because wolves give two raw meat when they die, which can be cooked to restore a good amount of the hunger bar. Wolves are easier than rabbits, since rabbits are rarer and they run away, which is pretty annoying. If you keep some distance away from the wolves while attacking, you can kill several at once, too. Keep the wolf fur you get for the bag.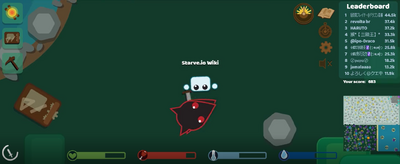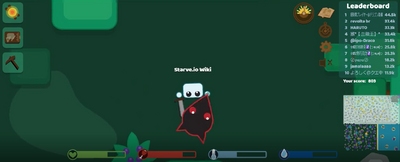 Wolves take about 17 hits with stone sword to kill, since they got buffed in the Sounds Good update. It won't hurt though, because their movement speed is the same as the player that's using weapons. Now you know how to get food and get good!
2. Be Fashionable Part One
Let's Use a Bag
When you spawn, you have nine inventory spaces, which means you can only hold nine different types of items. If you want to get amethyst, you'll probably need more. That's what the bag is for. This handy clothing can give you five more slots, making fourteen in total. Need more? Too bad. Anyway, let's make the bag!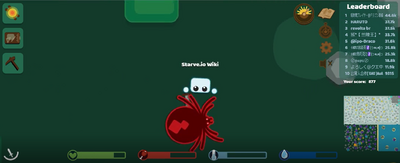 In addition to wolf furs, you will need 6 thread, meaning that you will have to kill 3 spiders. Killing spiders can be tricky with their webs, but they were nerfed in the Sounds Good update, so now they only take several hits to kill. Avoid being double teamed by wolves and spiders, as they can be deadly. When you get trapped, wolves can deal significant damage.
If you get trapped while killing a spider (without any wolves on you), then just keep attacking to finish the spider off.
Keep collecting wood and stone on the way!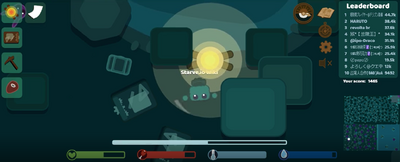 Bag takes 20 seconds to craft, so make sure you have a good place that can maintain your cold bar!
Book, Your Next Step
Got a bag? Why not a book! (Also known as IKEA Manual) The book is used to triple the crafting speed. Just don't forget to hold it before you craft. This item can come in handy when you want to cook tons of meat that you got from wolves, or want to upgrade your equipment. Crafting amethyst tools and helmet takes so long that you will die of hunger if you don't use a book. If you'll need it anyway, get it now!
To craft a book, you need to cook wood to make paper. You can do that by any fires.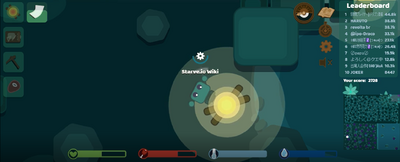 3. Gold Rush
So, you decided that stone tools suck. They can't kill mobs fast, you can only get 2 stone at once... Now, it's time for gold. (Note that you could've gotten golden equipment earlier, but it would take up one more space in your inventory. Without the bag, you many need space later (e.g: making a campfire) and gold might interfere with it. That's why I recommend to make the bag first. It's not hard with stone tools either :-) ) Your task is simple; find any
near you, marked by yellow spots on the minimap, and mine it until you have enough! You should also collect any wood, stone, and meat (from wolves) on the way to accumulate for the winter. You should do this step along with the next step, Be Fashionable Part Two.
Remember that big ores store more gold! Go for those first :-) If there are people camping gold or attacking you because you mined gold, try not to bother them too much and leave. It's just a waste of time to fight those.
Talking about waste, don't craft any helmets or hammers yet. They will just take inventory space even though you won't need them.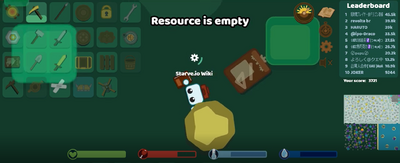 Once you have enough supplies, make a golden pickaxe to mine diamonds, and a golden weapon of your choice! Don't forget to use your book (if you made it).
If you can, collect extra gold to use for crafting diamond and amethyst tools!



4. Be Fashionable Part Two
I recommend you to do this step while collecting gold. If you want to survive long in the winter, and go into the cave, you'll need more protection against the cold, than just your own skin. This is what chapkas are for. There are three types: earmuffs, coat, and cap and scarf, and I will show you how to get the first two within this section.
Hunting Rabbits
Rabbits seem like the easiest animal to hunt in the game, but it's one of the hardest in my opinion, especially with a sword. They run away faster than you when holding a weapon, and pause every few seconds. With a sword, you need to follow them, deal damage when you can, and make them run into a structure or a resource deposit and attack them when they stop. With a spear, you need to sneak up so the rabbit is in range and keep attacking it until it dies.
Make sure not to run into any spiders, wolves, or both because you wanted to kill a rabbit. That can be dangerous. You should always take care of the hostile mobs first.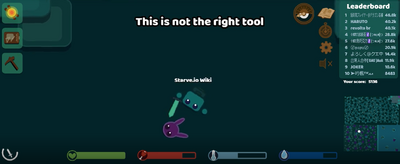 Getting a Coat
Getting a coat is self-explanatory. No rabbits needed in this one! Just hunt until you have the materials. Once you have the coat, you have the right cold protection to go to the winter! Do just the final step, Step 5.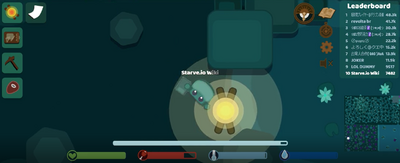 Congratulations! You are now a fashionable player with coat!
5. Final Preparation
The final aspect you can't forget about is water. There are no lakes in the winter. (If there are any lakes, it would be frozen and be covered by snow so we wouldn't know anyway...) That's why it's a good idea to bring water bottles. You can fill them in any lakes, ocean, or wells. Yes, you can drink saltwater in this game.
You need to dig sand and burn it to make bottles. It's a good idea to carry more than 10, for when you are out of inventory space and have to delete bottles. You can refill water bottles by digging 20 ice in the winter and melting it by fires.
Shovel It Up!
You will need a shovel to dig sand. Stone shovels can only dig one sand at a time, so it's worth investing in a golden shovel. Once you have the shovel of your choice, keep digging and make empty bottles.
Bottle It Up!
Once you have enough bottles, you should use the nearby ocean and fill all of them with water at this time. Don't worry, you can drink ocean water. It's so not salty that piranhas can live in it.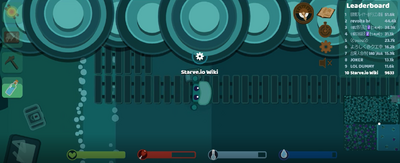 When you feel like you have made enough water bottles, you are ready to go to the winter!
What's Next?
Everything in the winter will be covered in Part Two of the Road to Amethyst guide. Thank you for reading, I hope that it has at least helped you give an idea of what it takes to just be successful in the winter :-).
If you found any problems with this guide, or have suggestions/feedback, please message 109Natsu! This guide was made by 109Natsu in the Sounds Good update.
Community content is available under
CC-BY-SA
unless otherwise noted.