Overview
The Winter Peasant's Tunic is a higher tier of Peasant's Tunic. With this, player's plants grow faster than when wearing the Peasant's Tunic (40% instead of 20%). The wearer cannot be stolen from by all Hoods, whereas the Peasant's Tunic can be stolen from by players wearing the Winter Hood. It also provides the same cold protection as the Cap & Scarf, better than the basic tunic. This item was added in the Sounds Good update.
It is crafted with 10 winter fur (obtained from polar bear and arctic fox), 5 blue thread (obtained from diamonds and spiders), white wolf fur (obtained from completing white wolf fur Chronos Quest), and a peasant's tunic.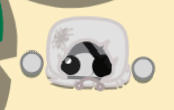 One of its crafting components is a white wolf fur. This item can only be obtained by completing a quest: players must collect 100 bread in the Winter, alone, without coming back in four days. The player must use Bread Ovens, as crafting won't count for collecting bread. You mustn't go back to the forest or ocean, use chest, box of dead people, starter kits and hood as they will make you fail your quest. You are allowed to eat the bread you make, as it does not affect the total bread count negatively. Also, you may use another person's windmill, wheat & plant plots. Do not use other players' oven, as it will not add to the total bread count.
More Information
See also: